€240 million+ advanced in the first four months of 2022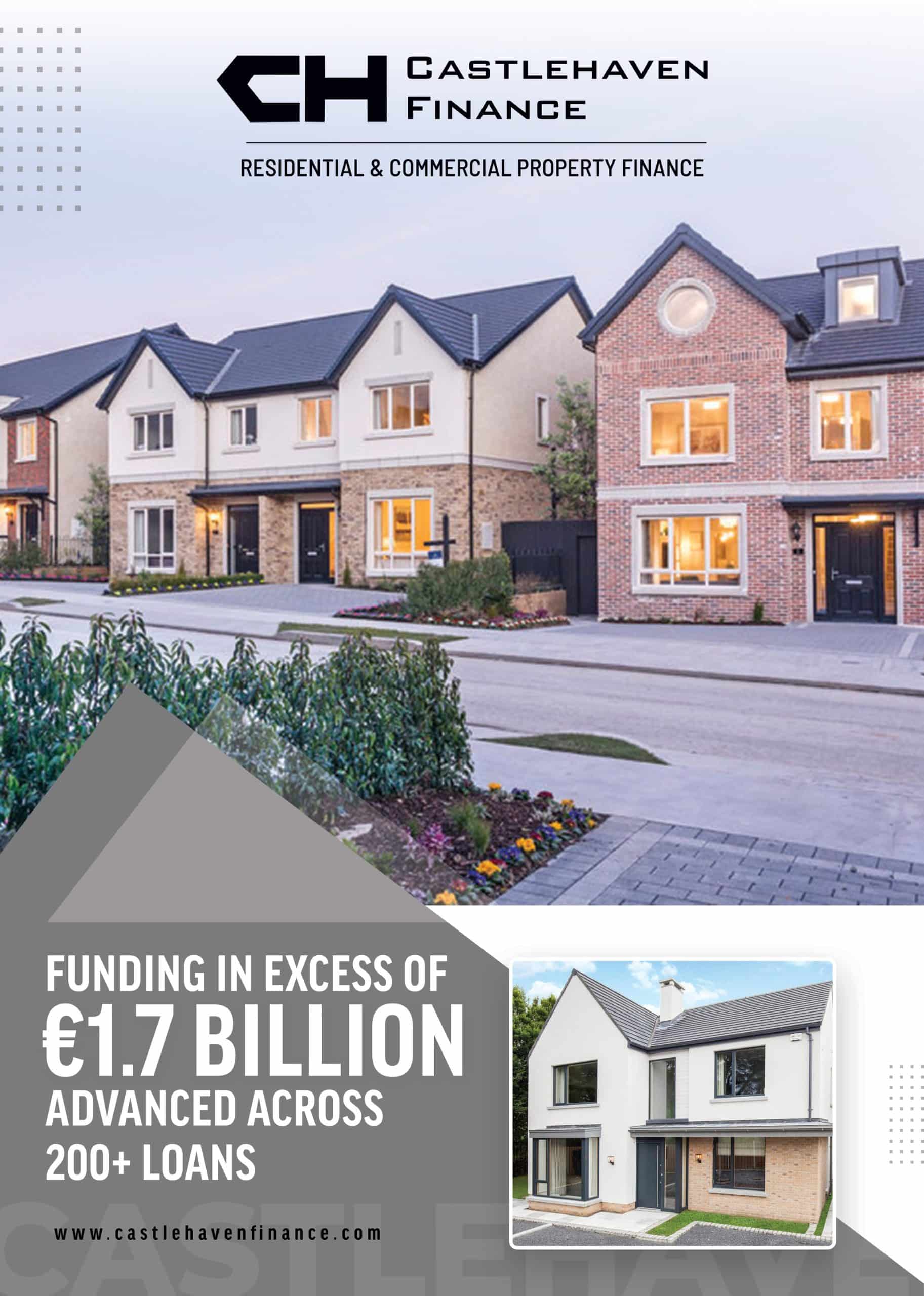 Castlehaven Finance: Supporting developers and homes builders across Ireland
Castlehaven Finance is an industry-leading alternative lender providing development finance for both private and social housing, commercial, and mixed-use projects nationwide. We are proud to support home builders and developers who have a solid track record and proven delivery skills. Over the past eight years, the team at Castlehaven Finance has backed some of the most prominent and respected property developers in the country. This team knows the industry and understands that time is of the essence; the funding service offers speed and flexibility when it comes to the delivery of property projects.
The company was founded back in 2014, in response to the need for an alternative lender in the residential development market in Dublin. Founders Clark McCann and Will Aylmer were both working in the alternative finance space in London, commuting every week from Ireland to their UK office. Realising that the Irish market was beginning to recover in 2013, they began to discuss the possibility of taking their work back to Ireland. In 2014, Castlehaven Finance was formed and an office opened in Dundrum, on the Southside of Dublin.
Since 2014, the team has grown from the original team of 3 and now employs 16 people. Over this period, Castlehaven Finance has advanced close to €1.7 billion to Ireland-based property developers and home builders, across almost 200 loans. In fact, in 2021, the company advanced loans in excess of €413 million across 37 facilities and, in the first four months of 2022, the team advanced loans in excess of €240 million. In the midst of a housing crisis, the company is particularly proud to have advanced over €100 million of the funding in 2021 for sites providing social housing. Upon completion, these sites will provide over 400 social homes. Critically, Castlehaven Finance will fund social housing anywhere there is a proven requirement for this type of housing nationwide.
The past two years have been an uncertain time for Irish, and indeed global, real estate. There have been many challenges encountered by the development and construction company in Ireland. As the leading alternative lender in Ireland, Castlehaven Finance credits its deep understanding of the industry for enabling the team to build and maintain relationships of trust.
"Trust is our key differentiator in the marketplace. Our service has evolved alongside our clients and the broader market over the past eight years. Our team builds lasting relationships by making borrowing as simple and straight-forward as possible. We believe that a strong relationship between lender and client is fundamental to mutual success. As a result, we are transparent with our cost of funds, underwriting approach, and lending process from the outset." Will Aylmer
While the pandemic was certainly a challenge, it presented an opportunity to support the rapid delivery of social housing in new locations around the country. While many other lenders closed their doors to new business, the Castlehaven team continued to lend throughout Covid. This has led to new client relationships and a deepening of existing relationships.
"We work closely with our clients, which allows us to remain 'in step' with our clients, this leads to a more responsive relationship, one that is open to discussion and innovation. For example, the development community is embracing innovation, emerging technologies and modern methods of construction so flexibility on the funding conversation is essential. We run an agile operation and this suits the demand of a changing industry.  Above all, we emphasise relationship, transparency, speed, reliability, flexibility," concludes Will.
Established in 2014, Castlehaven Finance has provided development finance for both private and social housing to developers, builders and project owners across Ireland in excess of €1.7 billion (200+ loans). With offices in Dublin and Cork, the company currently employs 16 people. The team at Castlehaven Finance have been involved in the delivery of more than 3,500 new homes, both private and social, across the State.
With offices in Dublin and Cork, Castlehaven Finance has provided development finance for both private and social housing to developers, builders and project owners across Ireland in excess of €1.7 billion (200+ loans) since 2014. Speak to the Castlehaven Finance team about your next commercial or residential development project https://www.castlehavenfinance.com/contact